Ru Guo Shuo 如果说 If Lyrics 歌詞 With Pinyin By Xu Yun Xiao 徐云霄 Shaw Yang An Tong 杨安童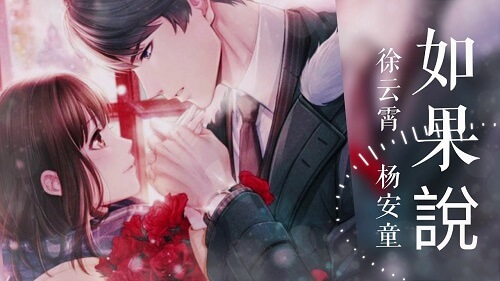 Chinese Song Name: Ru Guo Shuo 如果说
English Tranlation Name: If
Chinese Singer: Xu Yun Xiao 徐云霄 Shaw Yang An Tong 杨安童
Chinese Composer: Xu Yun Xiao 徐云霄 Shaw
Chinese Lyrics: Xu Yun Xiao 徐云霄 Shaw
Ru Guo Shuo 如果说 If Lyrics 歌詞 With Pinyin By Xu Yun Xiao 徐云霄 Shaw Yang An Tong 杨安童

Learn Chinese Time From This Chinese Song Lyrics:
rú guǒ shuō 
如 果  说   
If say
fēi yào làng fèi shí jiān 
非  要  浪   费  时  间   
It doesn't take time
nà jiù làng fèi de hěn zhí dé 
那 就  浪   费  的 很  值  得 
That's very value of wave fee
zhǐ yào hé nǐ zài yì qǐ  wu
只  要  和 你 在  一 起  wu
Just to be with you
rú guǒ shuō 
如 果  说   
If say
wǒ bù néng yí gè rén 
我 不 能   一 个 人  
I can't be alone
nà jiù shì nǐ shǐ zuò yǒng zhě 
那 就  是  你 始  作  俑   者  
That's why you started making them
jiē shòu nǐ dá rǎo wǒ 
接  受   你 打 扰  我 
I'll take it from you
Wu wu zěn me qíng tiān dōu bú xià yǔ 
Wu wu 怎  么 晴   天   都  不 下  雨 
It doesn't rain in sunny days
Wu wu zěn me huāng mò kāi mǎn huā 
Wu wu 怎  么 荒    漠 开  满  花  
Why is the desert full of flowers
yīn wèi nǐ 
因  为  你 
Because of you
duō me xìng yùn 
多  么 幸   运  
How lucky
wǒ néng yù jiàn nǐ 
我 能   遇 见   你 
I can meet you
shí jiān dōu wéi zhè yí kè dìng gé   dìng gé 
时  间   都  为  这  一 刻 定   格   定   格 
Time is fixed for this time fixed case fixed case
mǒ bú diào de shí kè 
抹 不 掉   的 时  刻 
An indelible hour
duō me nán wàng 
多  么 难  忘   
It is difficult to forget
rú cǐ kào jìn nǐ 
如 此 靠  近  你 
So close to you
cái fā xiàn yōng bào dōu xián duō yú 
才  发 现   拥   抱  都  嫌   多  余 
Just found hugs are too much
xián duō yú 
嫌   多  余 
More than enough
mù guāng jiāo jí  ha  jiù zú gòu 
目 光    交   集  ha  就  足 够  
The intersection of eye light and ha is sufficient
rú guǒ shuō 
如 果  说   
If say
wǒ bù néng yí gè rén 
我 不 能   一 个 人  
I can't be alone
nà jiù shì nǐ shǐ zuò yǒng zhě 
那 就  是  你 始  作  俑   者  
That's why you started making them
jiē shòu nǐ dá rǎo wǒ 
接  受   你 打 扰  我 
I'll take it from you
Wu wu zěn me qíng tiān dōu bú xià yǔ 
Wu wu 怎  么 晴   天   都  不 下  雨 
It doesn't rain in sunny days
Wu wu zěn me huāng mò kāi mǎn huā 
Wu wu 怎  么 荒    漠 开  满  花  
Why is the desert full of flowers
yīn wèi nǐ 
因  为  你 
Because of you
duō me xìng yùn 
多  么 幸   运  
How lucky
wǒ néng yù jiàn nǐ 
我 能   遇 见   你 
I can meet you
shí jiān dōu wéi zhè yí kè dìng gé   dìng gé 
时  间   都  为  这  一 刻 定   格   定   格 
Time is fixed for this time fixed case fixed case
mǒ bú diào de shí kè 
抹 不 掉   的 时  刻 
An indelible hour
duō me nán wàng 
多  么 难  忘   
It is difficult to forget
rú cǐ kào jìn nǐ 
如 此 靠  近  你 
So close to you
cái fā xiàn yōng bào dōu xián duō yú 
才  发 现   拥   抱  都  嫌   多  余 
Just found hugs are too much
xián duō yú 
嫌   多  余 
More than enough
mù guāng jiāo jí  ha  jiù zú gòu 
目 光    交   集  ha  就  足 够  
The intersection of eye light and ha is sufficient
Wu
yīn wèi nǐ 
因  为  你 
Because of you
duō me xìng yùn 
多  么 幸   运  
How lucky
wǒ néng yù jiàn nǐ 
我 能   遇 见   你 
I can meet you
shí jiān dōu wéi zhè yí kè dìng gé   dìng gé 
时  间   都  为  这  一 刻 定   格   定   格 
Time is fixed for this time fixed case fixed case
mǒ bú diào de shí kè 
抹 不 掉   的 时  刻 
An indelible hour
duō me nán wàng 
多  么 难  忘   
It is difficult to forget
rú cǐ kào jìn nǐ 
如 此 靠  近  你 
So close to you
cái fā xiàn yōng bào dōu xián duō yú 
才  发 现   拥   抱  都  嫌   多  余 
Just found hugs are too much
xián duō yú 
嫌   多  余 
More than enough
mù guāng jiāo jí  ha  jiù zú gòu 
目 光    交   集  ha  就  足 够  
The intersection of eye light and ha is sufficient
mù guāng jiāo jí  ha jiù zú gòu 
目 光    交   集  ha 就  足 够  
The intersection of eye light and ha is sufficient
Some Great Reviews About Ru Guo Shuo 如果说
Listener 1: "strongly recommended" accompany you to the top of the world "love yi-bo wang Wang Zixuan, a ministry to two brush series, each section of the cp can ke, Liu Yiyi & Lin Yixuan, Vivian elder sister & Sun Ge, PeiXi is a treasure, big boy, los day birthday seek season that is nothing but a man is too handsome, into the air to the appearance of the dreams are so burning, hope everyone can harvest a beautiful love, sincere friendship monsoon to the yankees, autumn sky falling cherry"
Listener 2: "This is the first show about esports that I have watched. It is really sweet. Both Ji Xiangkong and Qiu Ying are good. Finally, this song is a good lullaby. < / p > < p > kneeling for the second part, the original army, Wang Yibo performed the season to the air, Wang Zixuan performed the vitality of Qiu Ying, the second part of the second part, season to the air too much, the reality of Wang Yibo or have a charm.
Listener 3: "I like the relationship between men and women, and gradually change from being hostile to accompanying each other, trusting each other and falling in love with each other. "Hope and march to the top of the world with you." For this promise, they became the best version of themselves and fulfilled their dreams. Especially like such inspirational drama, not dilatory, direct members to see the complete set."
Listener 4:"Ji Xiangkong likes strawberry milk tea because Mia likes strawberry milk tea. Qiu Ying likes to drink strawberry milk tea, because the season to the sky like to drink strawberry milk tea. Qiu Ying left, season to empty to drink coffee. I especially like that the male actor is handsome and the female protagonist is beautiful. Ever since I got the news about this drama, I have been waiting for it to be finished in a week. I feel a little sad and want to watch it again."
Listener 5: "the first time after an update within a week they end play, not play the game at first, I was afraid of e-sports, look not to understand is the attitude of the chase, try e-sports, didn't expect chase after to know the ending too shocked, watching sports, listening to the commentary, as though, as it were, the feeling is so good, really want to go to the scene to watch a game, to accompany you to the top of the world the show theme bars da"
How do you think about this song? Please leave a comment below.