Re Si Le 热死了 Hot Dead Lyrics 歌詞 With Pinyin By Xu Xu Ruo Feng 徐徐若枫 Wang Jia Er 王嘉尔 Jackson Wang Xiao Jing Teng 萧敬腾 Jam Hsiao Chen Li 陈粒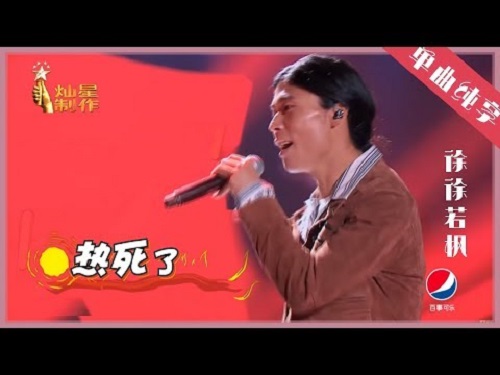 Chinese Song Name: Re Si Le 热死了
English Tranlation Name: Hot Dead
Chinese Singer: Xu Xu Ruo Feng 徐徐若枫 Wang Jia Er 王嘉尔 Jackson Wang Xiao Jing Teng 萧敬腾 Jam Hsiao Chen Li 陈粒
Chinese Composer: Xu Xu Ruo Feng 徐徐若枫
Chinese Lyrics: Xu Xu Ruo Feng 徐徐若枫
Re Si Le 热死了 Hot Dead Lyrics 歌詞 With Pinyin By Xu Xu Ruo Feng 徐徐若枫 Wang Jia Er 王嘉尔 Jackson Wang Xiao Jing Teng 萧敬腾 Jam Hsiao Chen Li 陈粒

Learn Chinese Time From This Chinese Song Lyrics:
nián jì jīn nián sān shí duō 
年   纪 今  年   三  十  多  
More than thirty years ago this year
wēn dù wēn dù bié zhuī wǒ 
温  度 温  度 别  追   我 
Temperature temperature don't chase me
wǒ hái méi yǒu bēn dào sì 
我 还  没  有  奔  到  四 
I haven't made it to four yet
nǐ jiù kāi shǐ bēn wǔ le 
你 就  开  始  奔  五 了 
You're starting to turn five
zhè tài yáng dú chǒng wǒ 
这  太  阳   独 宠    我 
The sun dotes on me
tā ràng wǒ wú chù kě duǒ 
它 让   我 无 处  可 躲  
It left me nowhere to hide
wǒ tóu hūn le   yǎn huā le 
我 头  昏  了   眼  花  了 
My head is spinning
wǒ dōu bù xiǎng chàng gē le 
我 都  不 想    唱    歌 了 
I don't even want to sing anymore
zhòng shǔ le 
中    暑  了 
In the heat
rè sǐ le 
热 死 了 
Hot dead
zhòng shǔ le 
中    暑  了 
In the heat
rè sǐ le 
热 死 了 
Hot dead
wǒ de líng hún dōu shāo zháo le 
我 的 灵   魂  都  烧   着   了 
My soul is on fire
rè rè rè rè rè rè rè sǐ le   zhòng shǔ le 
热 热 热 热 热 热 热 死 了   中    暑  了 
Hot hot hot hot hot dead from sunstroke
rè rè rè rè rè rè rè sǐ le   tóu hūn le 
热 热 热 热 热 热 热 死 了   头  昏  了 
Hot hot hot hot hot hot hot dead dizzy
rè rè rè rè rè rè rè sǐ le   yǎn huā le 
热 热 热 热 热 热 热 死 了   眼  花  了 
Hot hot hot hot hot hot dead eyes
rè rè rè rè rè rè rè sǐ le   rè sǐ le 
热 热 热 热 热 热 热 死 了   热 死 了 
Hot hot hot hot hot hot hot dead hot dead hot
shuí bǎ shàn zi kuài diǎn   dì gěi wǒ 
谁   把 扇   子 快   点     递 给  我 
Somebody pass me the fan quickly
gǎn dào zì jǐ jiù xiàng   yì bǎ huǒ 
感  到  自 己 就  像      一 把 火  
I feel myself like a fire
qí shí wǒ de tiáo jiàn hái bú cuò 
其 实  我 的 条   件   还  不 错  
It is true that my article is not wrong
tā men què shí zhè me shuō 
他 们  确  实  这  么 说   
Do they really say so
Rain drops let it pour
Rain drops let it pour
nián jì jīn nián sān shí duō 
年   纪 今  年   三  十  多  
More than thirty years ago this year
nǚ hái nǚ hái kuài zhuī wǒ 
女 孩  女 孩  快   追   我 
Girl girl run after me
wǒ shì kě ài de jìng téng 
我 是  可 爱 的 敬   腾   
I am worthy of love
yě hái méi yǒu qǔ lǎo po 
也 还  没  有  娶 老  婆 
I haven't married an old woman yet
jì mò le   gū dú le 
寂 寞 了   孤 独 了 
Lonely lonely alone
kū zhè rén shè 
哭 这  人  设  
The man cry
wǒ jì mò le   gū dú le 
我 寂 寞 了   孤 独 了 
I feel lonely and alone
dàn wǒ hái yào chàng gē 
但  我 还  要  唱    歌 
But I still have to sing
rè rè rè rè rè rè rè sǐ le   zhòng shǔ le 
热 热 热 热 热 热 热 死 了   中    暑  了 
Hot hot hot hot hot dead from sunstroke
rè rè rè rè rè rè rè sǐ le   tóu hūn le 
热 热 热 热 热 热 热 死 了   头  昏  了 
Hot hot hot hot hot hot hot dead dizzy
rè rè rè rè rè rè rè sǐ le   yǎn huā le 
热 热 热 热 热 热 热 死 了   眼  花  了 
Hot hot hot hot hot hot dead eyes
rè rè rè rè rè rè rè sǐ le   rè sǐ le 
热 热 热 热 热 热 热 死 了   热 死 了 
Hot hot hot hot hot hot hot dead hot dead hot
rè rè rè rè rè rè rè sǐ le   zhòng shǔ le 
热 热 热 热 热 热 热 死 了   中    暑  了 
Hot hot hot hot hot dead from sunstroke
rè rè rè rè rè rè rè sǐ le   tóu hūn le 
热 热 热 热 热 热 热 死 了   头  昏  了 
Hot hot hot hot hot hot hot dead dizzy
rè rè rè rè rè rè rè sǐ le   yǎn huā le 
热 热 热 热 热 热 热 死 了   眼  花  了 
Hot hot hot hot hot hot dead eyes
rè rè rè rè rè rè rè sǐ le   rè sǐ le 
热 热 热 热 热 热 热 死 了   热 死 了 
Hot hot hot hot hot hot hot dead hot dead hot
Some Great Reviews About Re Si Le 热死了
Listener 1: "A song called 'Hot Dead' is so bland that by its title some people think it is not music. Ordinary people also have the right to pursue their dreams. Wang Jia that rap added in the inside, after singing also hugged Xu Ruofeng, the heart is full of warmth and touched, the captains came up to sing, I looked at this scene really good gratified. The whole piece of work so adapted really good wife wife listen to! Really not easy, must give such people more care, if there is no stage, then illuminate yourself, if there is a stage, then we will illuminate more people. Xu Ruofeng is really too good. To see the smiles and encouragement from the audience and the captains, it's a show full of love, it's just amazing."
Listener 2: "I like Wang Jia too much, as soon as the Jacky comes out, I can't get it out. I like it just because I like it. The song does not have to be more advanced, it is a simple song, it is created with heart and sung with heart."
Listener 3: "This is what Chen Starts to sing," she says, "no demands, no return." Jia's voice ~ Xu Ruofeng has changed it very well. Pure initial heart, full of harvest."
Listener 4: "Lao Xiao, don't say you don't have a wife, but also come and chase you, in case there is a woman really chasing you, what should you do, Chen Mei, are you married? Not like Lao Xiao, I am not married, come and chase me." The more mundane the song, the less interesting it is. The weather is perfect for this song. There's so much positive energy in singing and writing songs. You know how to brag, eat, drink, drive and play so handsome."
How do you think about this song? Please leave a comment below