Meng Ta 梦她 The Dream Of Her Lyrics 歌詞 With Pinyin By Li Xin Yi 李鑫一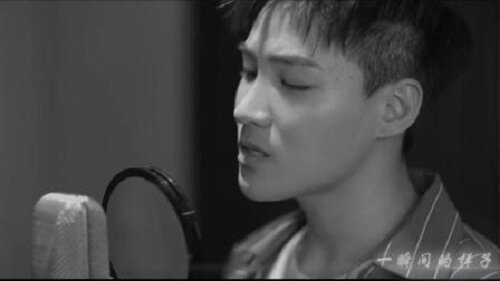 Chinese Song Name: Meng Ta 梦她
English Tranlation Name: The Dream Of Her
Chinese Singer: Li Xin Yi 李鑫一
Chinese Composer: Cui Bo 崔博
Chinese Lyrics: Cui Bo 崔博
Meng Ta 梦她 The Dream Of Her Lyrics 歌詞 With Pinyin By Li Xin Yi 李鑫一



Learn Chinese Time From This Chinese Song Lyrics:
fēng tíng liú le jǐ miǎo
风 停 留 了 几 秒
The wind stopped for a few seconds
yè luò le yǒu duō shǎo
叶 落 了 有 多 少
How few leaves have fallen
yí shùn jiān de yàng zi yóu diǎn měi miào
一 瞬 间 的 样 子 有 点 美 妙
There's something beautiful about a moment
qīng fǔ guò de wēi xiào
轻 抚 过 的 微 笑
A caressed smile
làng màn dé gāng hǎo
浪 漫 得 刚 好
The waves are rising just fine
dā jiàn hǎo zhè zuò chéng bǎo
搭 建 好 这 座 城 堡
Build the castle
yǔ dī luò le duō shǎo
雨 滴 落 了 多 少
How little rain fell
yún piāo guò le jǐ miǎo
云 飘 过 了 几 秒
The clouds drifted for a few seconds
zhè jì jié gāi yǒu de yàng zi hěn hǎo
这 季 节 该 有 的 样 子 很 好
It's a good season to have
tián mì yí gè yōng bào
甜 蜜 一 个 拥 抱
Sweet honey a hug
bàn zhe tiān shàng fēi niǎo
伴 着 天 上 飞 鸟
With the flying birds in the sky
rán hòu zài jiǎ zhuāng shuì zháo
然 后 再 假 装 睡 着
Then pretend to sleep again
mèng lǐ de tā dào dǐ shén me yàng
梦 里 的 她 到 底 什 么 样
What did she look like in the dream
ràng wǒ zài xiǎng yi xiǎng
让 我 再 想 一 想
Let me think it over
tīng ěr biān de hū xī
听 耳 边 的 呼 吸
Listen to your breath
kàn liú xià de chún yìn
看 留 下 的 唇 印
Look at the left lip print
zǎn xià le duō shǎo huí yì
攒 下 了 多 少 回 忆
Saved more back to recall
mèng lǐ de tā dào dǐ shén me yàng
梦 里 的 她 到 底 什 么 样
What did she look like in the dream
ràng wǒ zài xiǎng yi xiǎng
让 我 再 想 一 想
Let me think it over
tīng shuì qián de huà yǔ
听 睡 前 的 话 语
Listen to the words before you go to sleep
kàn zǒu guò de hén jì
看 走 过 的 痕 迹
Look at the tracks
zuì hòu cái jiē kāi mí dǐ
最 后 才 揭 开 谜 底
It was only later that the mystery was solved
yuán lái shì nǐ
原 来 是 你
The original to you
yǔ dī luò le duō shǎo
雨 滴 落 了 多 少
How little rain fell
yún piāo guò le jǐ miǎo
云 飘 过 了 几 秒
The clouds drifted for a few seconds
zhè jì jié gāi yǒu de yàng zi hěn hǎo
这 季 节 该 有 的 样 子 很 好
It's a good season to have
tián mì yí gè yōng bào
甜 蜜 一 个 拥 抱
Sweet honey a hug
bàn zhe tiān shàng fēi niǎo
伴 着 天 上 飞 鸟
With the flying birds in the sky
rán hòu zài jiǎ zhuāng shuì zháo
然 后 再 假 装 睡 着
Then pretend to sleep again
mèng lǐ de tā dào dǐ shén me yàng
梦 里 的 她 到 底 什 么 样
What did she look like in the dream
ràng wǒ zài xiǎng yi xiǎng
让 我 再 想 一 想
Let me think it over
tīng ěr biān de hū xī
听 耳 边 的 呼 吸
Listen to your breath
kàn liú xià de chún yìn
看 留 下 的 唇 印
Look at the left lip print
zǎn xià le duō shǎo huí yì
攒 下 了 多 少 回 忆
Saved more back to recall
mèng lǐ de tā dào dǐ shén me yàng
梦 里 的 她 到 底 什 么 样
What did she look like in the dream
ràng wǒ zài xiǎng yi xiǎng
让 我 再 想 一 想
Let me think it over
tīng shuì qián de huà yǔ
听 睡 前 的 话 语
Listen to the words before you go to sleep
kàn zǒu guò de hén jì
看 走 过 的 痕 迹
Look at the tracks
zuì hòu cái jiē kāi mí dǐ
最 后 才 揭 开 谜 底
It was only later that the mystery was solved
yuán lái shì nǐ
原 来 是 你
The original to you
mèng lǐ de tā dào dǐ shén me yàng
梦 里 的 她 到 底 什 么 样
What did she look like in the dream
ràng wǒ zài xiǎng yi xiǎng
让 我 再 想 一 想
Let me think it over
tīng ěr biān de hū xī
听 耳 边 的 呼 吸
Listen to your breath
kàn liú xià de chún yìn
看 留 下 的 唇 印
Look at the left lip print
zǎn xià le duō shǎo huí yì
攒 下 了 多 少 回 忆
Saved more back to recall
mèng lǐ de tā dào dǐ shén me yàng
梦 里 的 她 到 底 什 么 样
What did she look like in the dream
ràng wǒ zài xiǎng yi xiǎng
让 我 再 想 一 想
Let me think it over
tīng shuì qián de huà yǔ
听 睡 前 的 话 语
Listen to the words before you go to sleep
kàn zǒu guò de hén jì
看 走 过 的 痕 迹
Look at the tracks
zuì hòu cái jiē kāi mí dǐ
最 后 才 揭 开 谜 底
It was only later that the mystery was solved
yuán lái shì nǐ
原 来 是 你
The original to you
Some Great Reviews About Meng Ta 梦她 The Dream Of Her
Listener 1: "Favorite lyrics in" the dream he what "this sentence, yeah, when all the dust settles, look back found visions, 13 is the existence of white moon, in order to his beloved woman can plant a tree in three hundred years ago, prove the existence of the real, across time and space come to your world, even if the loss of memory is still subconsciously drawn to wei, crush on her"
Listener 2: "After a big dream, I saw in my dream that my eyes were full of tenderness, and I was overjoyed. The warm melody and lyrics, together with li xinyi's special voice, are the narration of "dream of her", as well as the singing with deep feeling, and the exquisite emotion. It is perfect to enjoy it together with the plot."
Listener 3: "I always thought that my favorite wei, the most affectionate person is the fourteen, in the end only to find that the fourteen is not affectionate at all, but a very affectionate appearance. Wei to marry thirteen, he said he regretted to wei, the sentence "would rather be hated by you, also don't want to be forgotten by you" is how infatuated. I hate him clearly love Ming wei but he kissed Ming hui, also married her, with her children, but I thought he did so to protect Ming wei, but I did not think he really fell in love with Ming hui. However, fell in love with Ming hui, but also made a pair of Ming wei very affectionate appearance, count down a few episodes when he went to save Ming wei said to her: "that day I lied to you is my life most regret thing, today I want you to believe me again", if you did not see the front also thought he was still in love with Ming wei! Really is wrong to see 14, the whole play is the worst 14. In the end, the one who loves Ming wei the most is the history official with thirteen elder brother Yin xiang."
How do you think about this song? Please leave a comment below.