Guo Feng Mei Shao Nian 国风美少年 Beautiful Youth Lyrics 歌詞 With Pinyin By Fang Yang Fei 方洋飞 Er Shen 贰婶 Liu Yu 刘宇 Qian Wei 芊蔚 Liu Feng 刘丰 Qin Zi Mo 秦子墨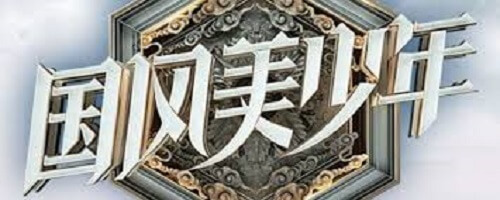 Chinese Song Name: Guo Feng Mei Shao Nian 国风美少年
English Tranlation Name: Beautiful Youth
Chinese Singer: Fang Yang Fei 方洋飞 Er Shen 贰婶 Liu Yu 刘宇 Qian Wei 芊蔚 Liu Feng 刘丰 Qin Zi Mo 秦子墨
Chinese Composer: Liu Zhou 刘洲
Chinese Lyrics: Zheng Yi 郑毅 Wang Ning 王宁
Guo Feng Mei Shao Nian 国风美少年 Beautiful Youth Lyrics 歌詞 With Pinyin By Fang Yang Fei 方洋飞 Er Shen 贰婶 Liu Yu 刘宇 Qian Wei 芊蔚 Liu Feng 刘丰 Qin Zi Mo 秦子墨

Learn Chinese Time From This Chinese Song Lyrics:
fāng yáng fēi 、 èr shěn : 
方   洋   飞  、 贰 婶   : 
Fang Yangfei, Two aunt:
yīng xióng ào zhèng nián shào 
英   雄    傲 正    年   少   
Young and proud
dà lù cháo tiān gān dǎn zhào 
大 路 朝   天   肝  胆  照   
Great road to heaven liver gallbladder light
qiān wèi 、 liú yǔ : 
芊   蔚  、 刘  宇 : 
Qian Wei, Liu Yu:
líng xiāo zhì hóng chén xiào 
凌   霄   志  红   尘   笑   
Ling Xiaozhi laughed
yì bēi rán nuò jūn zhī dào 
一 杯  然  诺  君  知  道  
A glass of Ranuo knows
liú fēng 、 qín zǐ mò : 
刘  丰   、 秦  子 墨 : 
Liu Feng, Qin Zimo:
qín qǐ xiāo luò gōng shāng jué zhēng yǔ 
琴  起 箫   落  宫   商    角  徵    羽 
Qin xiao down gong Shang horn sign feather
yú yīn sān rì xīn xián tiào 
余 音  三  日 心  弦   跳   
The rest of the three day heart string jump
fāng yáng fēi 、 èr shěn : 
方   洋   飞  、 贰 婶   : 
Fang Yangfei, Two aunt:
dòu zhuǎn xīng yí zhèng qì zuì hào miǎo 
斗  转    星   移 正    气 最  浩  渺   
The bucket turns the star to move the positive gas most magnificent
qiān lǐ jiāng shān gèng duō jiāo 
千   里 江    山   更   多  娇   
The rivers and mountains are more charming
hé : 
合 : 
Us:
shào nián zhēng zhāo xī xún zhèng dào 
少   年   争    朝   夕 寻  正    道  
Young people struggle to find the right path
guó fēng kàn jīn zhāo zhēn fēng cháo 
国  风   看  今  朝   真   风   潮   
State wind look at the real wind tide
huá xià yǒu shén yùn zuì tiān jiāo 
华  夏  有  神   韵  最  天   骄   
China has the most divine charm
zhuàng zhì lì tiān dì rèn xiāo yáo 
壮     志  立 天   地 任  逍   遥  
Zhuang Zhi standing heaven and earth to xiao yao
Some Great Reviews About Guo Feng Mei Shao Nian 国风美少年
Listener 1: "National wind beautiful youth, youth is at that time, national wind is at that time! National wind it is not to show off a label, not to look up to a star, it is around us, in a stroke and a stroke, in a chopsticks and a bowl, in the "bow to think of home" recitation. Two great aunt said he came to the purpose of this program is to be able to let the good music of the ancient wind circle known. Then the purpose of this program is to make the national style known. As he said, "good things should be known."
Listener 2: "My second master has an eye for gold, likes Liu Feng, takes a liking to Liu Feng, appreciates Lizhifeng, so do we, because my second master likes liu Feng, and also because Liu Feng really knows a lot of our national instrumental music. Versatile, it is a kind of inheritance of the art left by our ancestors, and it is a real national style beautiful youth! Like er Ye, like Liu Feng! Support Liu Feng, support er Ye! Come on!!"
Listener 3: "after the huai 11 issue of the American teenager, the most like is Liu Feng, he is Zhang Yunlei treasure boy, from the beginning of the young, Beijing to Liu Feng at this stage of the last song" pear flower ", from beginning to end a capital without falling, although finally didn't win, but believe that you are the best, come on!!!"
Listener 4: "the beginning is because the small bow and like antique watch" huai beautiful young ", then found the little sister elder brother in this program are treasure girl boy Liu Muzi all-around, Qian wei guqin, bright voice Xi son, Yang fang exotic masculine martial arts, two aunts insistence of ancientry, Liu Feng Beijing dialect, dance sessions, Chen Ziming: stone does, but the stone is very strong, "qin mo: and don't three days, when sit up and take notice, jia yu smoke voice…"
Listener 5: "I feel I am really in love, as a fan of ancient fashion, who does not like two aunt. Liu Feng's "Young Beijing" captured my heart as a fan of the comic book (and the song was great, too) and then I liked him even more as an inheritor of traditional Musical Instruments. Liu Yu's dance needless to say, Fang Yang flew to the back to show the strength. Ah… I was hoping none of them would go, but I was really excited to see them collide."
How do you think about this song? Please leave a comment below